Wicked Tuna Outer Banks is a sporty TV show with excellent and instant financial returns. It airs on National Geographic as it follows prominent anglers in North Carolina who compete to catch the highest quantity of Bluefish Tuna in the Atlantic Ocean.
The show is on its sixth currently in its 12th season, with more than 150 episodes. In this article, we will focus on the captains on the front and get some facts about them.
Tyler McLaughlin.
Tyler is the youngest of all the captains in the cast. He does fishing as a sport and also to make a living. Wicked tuna cast Tyler started fishing at the early age of two when he used to accompany his father to the ocean. He caught his first fish when he was seven.
His vessel's name is Pin Wheel, and it's a 55-foot single engine boat. Tyler started the show when it first premiered in 2012 and is still on display to the last season. He is not leaving the show. He may be the youngest in the group, but he has the skills of an excellent fisherman.
In 2015, the Red Cross named him a hero after rescuing a sinking vessel in August 2014. Other than the award, Life in the Water has earned him a good net worth of $400,000.
Wicked Tuna Outer Banks Cast Bobby Earl.
Bobby is the captain of the vessel named Reel E' Bugging. He is known for making tough, radical decisions that sometimes put his crew at risk. He has been on the show since the sixth season.
Bobby is a hardworking man who is good at his work. He is always on the show, which is what it takes to be the captain.
Dave Marciano.
Dave Marciano is over fifty years of age and has been in the water for many years. He was present for the first three seasons, left for the fourth, came back at the fifth, and is still present. Dave is the captain of the vessel named 'Hard Merchandise.'
Dave is a fighter and is continually motivated to be the winner. He has had bad moments on the water. For example, in January 2003, he lost his first boat, 'Angelica Joseph', which sank in less than an hour, risking his life and crew. 
Marissa McLaughlin.
Marissa is Tyler's younger sister. She joined the show on the eighth season after the demise of Nicholas Duff, his brother's best friend. Having gone through similar fishing training by his father, similar to his brother, Marissa was the best replacement for his brother's friend Duffy.
Besides being a competent captain, she also offered moral support for his brother, who was going through difficult moments. According to her Instagram posts, it is not clear if she left her previous job, but she got into fishing. We hope she sticks around for the tenth season.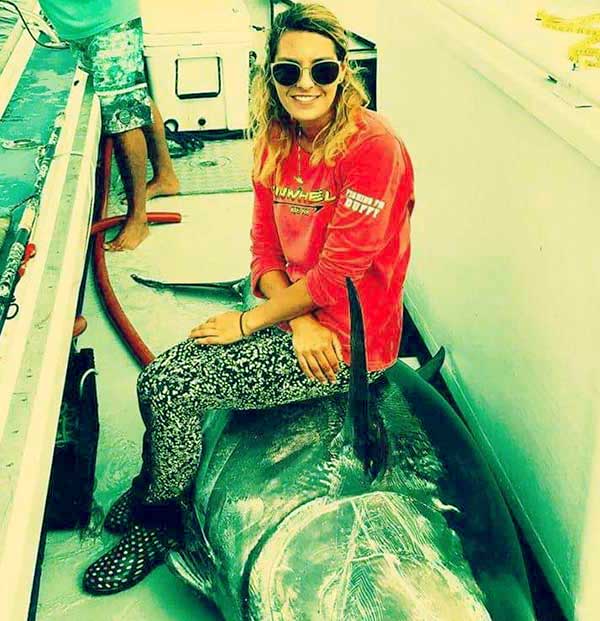 Rob Naughton.
Rob is the narrator. He is the voice behind the events at sea. He gives explanations to the viewers and the feel of the action. Facts about how long he has been on the show are unknown. However, he still comments on the show with his great voice.
Rob prefers to be behind the scenes, which is also seen in how much he wants to be known about him. There are no details of him on the internet. He has succeeded in keeping his records confidential.
Timothy James Ott.
As he is known, TJ Ott is 43 years old and from Broad Channel, Queens of New York, USA. He has over twenty years of experience as a captain of his ship, Hot Tuna, given by his family. Ott started fishing at an early age but caught his first tuna at twelve.
He joined the show in the first season and is still present. Ott is one of the biggest earners from fishing on the show, and he can make up to $20,000 in a single catch of tuna.
TJ. Ott was known for his huge body shape until he changed that. He put much effort and lost over 20kgs, making him fitter for fishing. With over 21 years of fishing, Ott has an estimated net worth of $800,000.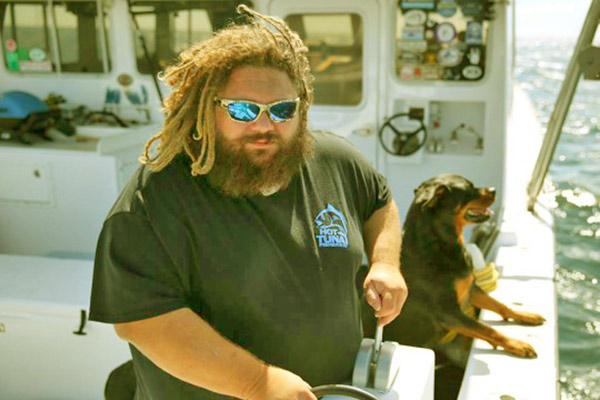 Wicked Tuna Outer Banks Cast Adam Price.
Adam is the captain of the Offshore Outlaw vessel. Together with his crew, they joined the Wicked Tuna in the sixth season and have placed tremendous competitive pressure on their opponents.
On their first trial, Adam and his small team thought they had caught a record-breaker tuna, but that was not the case; it was a giant hammerhead. They had to toss back the uninvited guest.
Adam is a married man and loves to show off his beautiful wife on social media.
Eric Price.
Erick is a crew member in Adam's offshore outlaw vessel. He is a co-captain on the same ship. And the team of three are all charged and ready to win the big prize. We anticipate seeing more of him in the coming seasons.
Meredith Reed.
Meredith started the show in the first season but left for five years. He, however, made a big comeback in the sixth season with a new vessel named 'Kahuna' and a fully charged crew composed of his brother Chan and his friend Steve Buchannan.
Fishing is his family's form of living. He inherited the boat when he was eighteen years old and has been doing commercial fishing with it for more than twenty years now. Meredith knows the challenges of competitive commercial fishing, and that is all he knows. He is always up for competition.
Wicked Tuna Outer Banks cast Meredith's vessel, 'Kahuna,' a fifty-foot-long tuna killing boat that is twice as fast than the one he lost in season one named 'Wahoo.' Meredith and his crew are still on the show.
Zack Shackleton.
Zack is the vessel captain named 'Rasta Rocket,' a twenty-foot vessel with six crew members. Daniel Blanks, Shane Britt, Stanton McDuffie, and Derek Savage. They joined the 'Wicked Tuna' show in the sixth season.
After being on the show for three months, the team from Holden Beach set their eyes on other competitions outside.
They joined the Kingfish Cup based in their home county of Brunswick. After hovering through the raging waters, they brought to the weighing scale record-breaking kings weighed an aggregate weight of 76 pounds, equal to over $88,000.
They won the competition on a wide scale. This big team has a lot of potential on the show as it continues.