Stan Zuray is an American reality television star known for his work in the series Yukon Men. He made his television debut in August of 2012. The Yukon Men star has become one of the most revered and beloved cast members of the show.
From humble roots in Boston, Stan moved to Tanana in Alaska to avoid the negative aspects of living in the city. It is primarily due to his warm personality and survival skills. Check out our article to learn about Stan's intriguing life in America's last frontier.
He is married to his wife, Kathleen.
Stan Zuray is married to his lovely wife, Kathleen. Kathleen is a native Alaskan from the Athabascan ethnic group. He met his wife in Tanana when he moved to Alaska from Boston.
They developed an interest in each other and started a romantic relationship. Their dates were always an adventure. They would take a ride with their sled dogs to check out Stan's trap line to see if any animals had been caught.
The couple also regularly went camping during summer to fish. It wasn't long before the couple welcomed their first child. Consequently, they settled down together and decided to make a family.
However, Kathleen was not Stan's first wife. When the Yukon Men star lived in Boston, he had another wife. However, they separated before Stan moved to Alaska. Moreover, he had borne a daughter with his first wife.
Kathleen is a very camera-shy person, and she rarely appears in the show. However, behind the scenes, she is a hardworking woman and an amazing mother to her kids. The lovely couple has been blessed with three kids in Tanana.
They have been married for 30 years now and still love each other very much. On September 17th, 2019, Stan posted a photo of himself and Kathleen on their wedding day.
The picture was framed in a beautiful handmade frame with Stan Zuray and wife Kathleen embroidered on it. They celebrated their 25th wedding anniversary, and we couldn't be happier for them. Fans, family, and friends posted congratulatory messages to the loving couple, wishing them well.
Stan Zuray's Children.
 Stan and his wife, Kathleen, have been blessed with three exceptional children in their marriage. Their children's names are Joey, Kate, and Ariella. The three have been featured on the show, more so Joey.
As aforementioned, Stan Zuray has another daughter from a previous marriage. Her name is Monica, and she lives in Boston with her mother.
Stan is a family man and adores his kids. The Yukon Men star moved from Boston to Alaska because he wanted a life where he would spend a lot of time with his kids. Stan hated the modern round-the-clock life that many people in cities have.
His dad was a victim of this life, so much so that Stan and his siblings rarely saw their dad. Stan's mother revealed that he would save up money when he was young and then throw it in the sewer. He worked multiple jobs, and when he came home, it was mainly to sleep and then back again to the grind and hustle.
According to Stan, money was an enemy that prevented his dad from being present, and he hated it with a passion. Consequently, Stan resolved that he would never want such a life for his kids, and he left for Alaska in search of a simpler, more subsistent life.
His first wife was divorced.
As pointed out in the previous paragraphs, Stan was married to a woman who lived in Boston once upon a time. The two didn't last long together, and they soon parted ways.
It seems that Stan and his first wife had irreconcilable differences to the extent that even their daughter Monica was not enough to keep the family together.
His son Joey is also a cast of Yukon Men.
The apple doesn't fall too far from the tree. It couldn't be more accurate for Joey and his dad Stan. Joey shares most of his father's attributes of being fiercely independent and a survivalist. He is a skilled hunter and gatherer who learned everything from Stan Zuray.
When Joey was young, he would rub his dad up the wrong way, which is typical for most youngsters and their parents. In an interview with Jim Jax, Stan described his son Joey as strong-willed.
He alluded that Joey found it hard to accept someone else's point of view. Consequently, Stan would always tell Joey the opposite of what he wanted him to do so that Joey could do what was required.
My sister in law Faith, my son Joey and my Wife Kathleen and I enjoying out last snow machine ride until next year pic.twitter.com/94q1i6yCYj

— Stan Zuray (@stanzuray) April 22, 2016
He described Joey as independent and said that he sees himself in him. Stan also reminisced that it was so fun working with Joey when he was young.
About Stan Zuray's daughter Kate
Kate Zuray is a young, ambitious lady who is always thirsty for knowledge. She tries to keep her life private and away from the public eye. Rarely seen on the show, Kate is in hot pursuit of education.
Kate even recounted to Jim Jax, a blogger, how she deleted her Facebook account to receive 500 Facebook friend requests in a few days.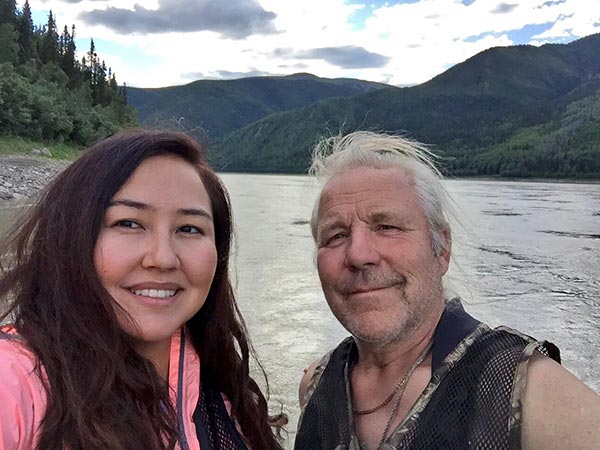 At that time, their show had just debuted on television, and the young Kate could not handle all that attention. Moreover, she took a three-year hiatus from Facebook.
Kate seems to be the hungriest for a life other than hunting and gathering compared to the rest of her family members. She works as a water treatment operator, and she is also an activist advocating for subsistence hunting and fishing.
In her interview with Jim Jax, she revealed that she was planning to study in Canada about the upper Yukon River Salmon.
Kate also described herself as a fun, outgoing person. Kate wished to move to New York or Los Angeles when she grew older. Fueled by adventure and curiosity, she moved to Hawaii and Idaho.
Luckily, she got a job in Tanana and plans to build a house and buy a four-wheeler and a motorboat in the future. However, the experience made her realize that she was a family-oriented person who needed her family close by. Thus, she plans on living the rest of her life in Tanana.
Stan Zuray Net Worth.
Zuray's source of income mainly comes from his work on the show Yukon Men. Stan Zuray's net worth is $400,000.
Luckily for Stan, this will mean more money in his bank account. Though the show was canceled, a new documentary is set to air in 2020, focusing on Stan. The documentary is named The Stan Project.
YouTube and Social Media Profiles.
Despite being older than most millennials who use social media, Stan hasn't shied away from flexing his social media muscles. Stan is in all the major social media sites like Facebook, Twitter, and Instagram.
Stan knows that it is essential for one's fans to have a more intimate platform to reach their favorite stars as a celebrity. He started his YouTube channel under the name Stan Zuray.
The channel has 46.2K subscribers. Stan Zuray uses his YouTube channel to document his life in Alaska more in-depth than the show did.
On Instagram, Stan's handle is @stanzuray. He has 5,850 followers and loves to post pictures of his family. Whether they're riding their snowmobiles, hunting reindeer, fishing, or racing their sled dogs in Tanana's back trials, they do so with unity and love.
The Yukon River doesn't only serve as a fishing ground, but it can also be a beautiful place to take wedding photos. Stan loves to spend time with his family fending for their livelihood. In one photo, we can see Stan fishing and then gathering up his family to cut fish.
Stan's family also loves cookouts. They can be seen barbequing mouthwatering stakes on the scenic banks of the Yukon River.
And of course, what is life in Yukon without sled dogs? Stan's Facebook page is awash with photos of his faithful travel companions.
The dogs, mainly Huskies, are beautifully insulated in their signature fluffy winter fur coats. They can be seen in various photos pulling sleds with Stan riding through the snow trails.
There is a book about his life.
 Stan Zuray has documented his life in a captivating book entitled: Carry On: Stan Zuray's Journey from Boston Greaser to Alaskan Homesteader.
The book has received high ratings from its readers. And why wouldn't it? This book is more captivating than most fictional adventure books, as it is all factual. The reader can experience Stan's life and get to live vicariously in Alaska through the read.
Stan Zuray Wikipedia facts. 
| | |
| --- | --- |
| Full name | Stan Zuray |
| Age | 70 years old |
| Date of Birth | 1953 |
| Place of Birth | Dorchester, Boston, United States |
| Profession | Reality television star |
| Net worth | $400,000 |
| Partner | Kathleen Zuray |
| Kids | 4 |
| Nationality | American |
| Ethnicity | Caucasian |
| Zodiac Sign | Unknown |
| Parents | Unnamed |