Apart from Parker Schnabel, the Gold Rush series also features other team members. Though dominated by men, the crew has a taste of ladies.
The caves and the rugged terrain don't seem fitting for the ladies. But hold that thought till you meet Karla Ann Charlton. She is a passionate beauty who brings some vibrancy to the crew. Karla also has a history of gold mining flowing in her veins.
Her great-grandfather was one of the first miners in the Yukon area. Rick Ness is also a star in the show. You can't fail to note his prowess in excavation and rock truck operations. So, are the two co-stars in a relationship, or are fans just being snoopy? Let's find out.
Are Karla Ann and Rick Ness in a Relationship?
When it comes to the Gold Rush show, Rick Ness is Karla Ann's boss. On camera, the two depict an excellent working relationship. However, off-camera, there seems to be more than meets the eye. They share a lot of moments, and both seem to be enjoying the company of each other.
Unlike a movie, a reality TV show displays the real life of stars appearing in the show. Even on camera, fans don't fail to note the looks, the hugs, and the smiles. Karla has been beside Rick when he freaked over spiders and almost collapsed in the Klondike.
Hence, there is little time for pretence and acting. Nevertheless, we can't deny that there are some redo's when shooting reality TV series.
Fast and furious, rumors began surfacing that Karla Ann and her boss Rick have a thing. Apart from the one major question fans were asking about whether he is the next Todd Hoffman, the other was whether he is dating Karla.
Rick Ness responded to the rumors via Twitter after a fan asked him about his single status. So intense were the stories that fans asked him to meet some of the gold and create an engagement ring for Karla.
However, Rick had set the record straight in the beginning that he and Karla were just friends. Rick says Karla is the only sister he has ever had. So, to fans' disappointment, there is no relationship between the co-stars except for a platonic fondness that knows no bounds.
Who is Karla Ann from "Gold Rush"?
A British Colombian native, Karla Ann, has been a star in the TV reality series Gold Rush since 2017. Karla has good survival skills and has been instrumental in keeping the crew safe. She spends a great deal of time in the Yukon area interacting with nature.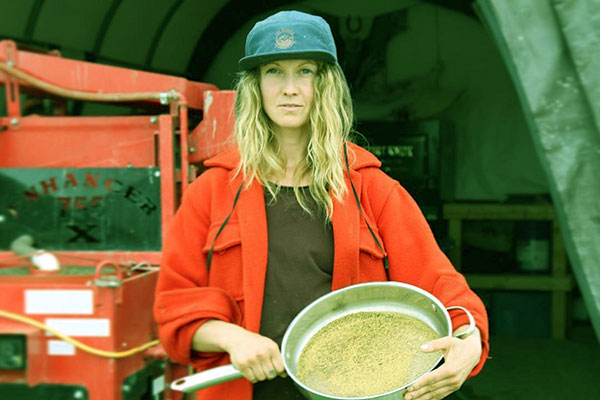 She once talked to Discovery about her family history. She said their family patriarch came from Sweden in the late 1800s and early 1900s.
According to her grandfather's diary, he had only one shoe with nothing to his name. After settling in British Columbia, he staked for gold and found it. He continued to raise his family, and the rest is history.
Since joining Gold Rush, Karla has travelled widely with co-stars. She has been to Guyana to mine gold in Marudi. On the flip side, Karla spends her free time snowboarding.
She has a membership in the Canadian Ski Guide Association. Karla from Gold Rush also drives a truck for Patrick, one of the crew members.
Karla is also very active on social media, especially on Instagram. She likes posting photos of her recent adventures. One other exciting thing about Karla is that she wants to bike and doesn't wear lipstick but makes her lip balm.
Karla Ann and her Work.
Well, in short, we can say that Karla Ann is married to her job and her work. If not interacting with nature and getting dirty in the Yukon, you will also find her participating in philanthropic activities.
While in Papua Guinea, Karla Ann from Gold Rush also raised money to provide free bicycle helmets for kids. Karla posted a picture of herself on Instagram in Papua, Guinea. She appeared to be in the country's remote regions, doing social work, probably.
Is Karla Ann Dating or Married?
Apart from the dating rumours labelled on the co-stars, no sources reveal whether Karla is dating someone else or is married to any husband. What we know is that Karla is married to her work and nature, and that's all she cares about now.
She looks to Rick as a brother. In one of their photos on Instagram, Karla is seen standing up high on Rick's shoulder wearing a shirt with the words "Rick is my spirit animal."
Who is Rick Ness married to or Dating?
Though he is seen on TV often, Rick's social life is shredded in mystery, just like his co-star Karla. He has revealed little about his dating or married life. However, there seems to be a lot of gossip about his dating life.
One of his YouTube video followers once chirped that Rick is married to his high school sweetheart, Valerie. He even went on to say that Rick and Valerie have six children. However, no sources substantiate these reports.
There was also the rumour that Rick was dating Ashley Youle, the former girlfriend to Parker Schnabel. As usual, fans are always speculative, but nothing of the things said about his dating and married life can be confirmed.
Word has it that had Rick Ness didn't attend Mitch Blaske's (Parker's mechanic) wedding in 2016. When Mitch returned to the show from her wedding break, Rick looked disappointed when she told him many cute, single bridesmaids were around. Maybe he would have met the love of his life from the single bridesmaids at the wedding.
However, Rick is not to blame for missing the golden opportunity. The life of a miner is too busy to get time away. Well, time will tell whether Rick will be getting someone soon.