The law of nature that new takes the world's place, a law that is just as true to humans as to animals. Life below Zero fans was dying for a new spin-off series, and finally, they are getting one, but 'Life below Zero: The Next Generation' will not feature your regular cast members of the main series.
We barely know about any of the 'Life below Zero: The Next Generation' cast members since, until now, they're pretty much ordinary people. However, we aim to help you understand the rising reality stars through individual bio.
Let us first go with the compelling character in the cast, Michael Manzo. Here is all that we know about his life and bio.
Michael Manzo is of Indian Ethnicity.
The entertainment industry is susceptible when approaching diversity issues nowadays. Life Below Zero creators are also trying their best to find cast members who are authentic native Alaskans.
Still, it is a challenging task since many do not live a genuinely off-grid lifestyle aside from the indigenous people. Michael Manzo certainly brings a unique origin to the table.
Michael Manzo is an Indian, but he comes from the descendants of Mi'kmaq Indian. However, his ancestors come from a similar environment found on the other side of the continent in places like the Canadian Atlantic Provinces and the Gaspe Peninsula.
They are also indigenous to Maine, where Manzo hails from.
Manzo was a Soldier in Alaska.
As we were already telling you about the producers' dilemma towards casting for the show, off-grid residents in Alaska are mostly either native settlers or people who put out quite a bit of money to attain that lifestyle, which makes the off-grid aspect debatable.
However, Life Below Zero Michael Manzo first came to Alaska as a soldier in 2002. Michael Manzo was in the army sanctioned to Fort Richardson.
Since his childhood, Michael Mano was a traveler, hunter, and fisherman who grew up boating canoes in Maine's lakes and rivers.
After he left the army, he studied at a university and was doing a 9 to 5 job at a Canoe paddle mill in Northern Maine. However, he wasn't earning enough, and his Indian roots were calling out for him to seek a better life.
Life Below Zero Michael Manzo is a Canoe Builder.
Michael Manzo now lives in Alaska and is professionally a canoe builder. When he first came to Alaska, he saw a gas station guy filling up around 55 gallons. According to the man, everyone in Alaska rode a jet boat that took a lot of fuel for just one trip.
Michael Manzo thought the idea was Ludacris and would only learn a lesson the hard way when fishing on a 17.5 ft. Long x 43 square stern canoes like he and everyone back home in Maine did.
"I broke the shear pins and damaged props on my first attempt." Michael recounts but understood that he was underestimating the water bodies of wild Alaska but that still did not convince him to waste his hard-earned money on an expensive jet boat."
He instead began talking with other locals who were using a "19 ft. Grumman square stern canoe" with "jack-ass lifts." The idea came to Manzo to build his version of the lift and attach it to his canoe. A successful innovation gave his canoe six hp and 9.9 hp motors to help navigate Alaska's wild rivers.
The year was 2008, and it was a golden year for the reality star. He hunted his very first moose, a small spike fork moose. This year, he did many other hunting and fishing activities like fly fishing, duck shooting, and dip-netting.
Of course, the first year is always challenging, and his canoe still fell a little small and slow in some tricky waters with intense rapids.
His Ground-Breaking Canoe Business.
There were times his boats would fill with water, and times it seemed like the speed wouldn't carry him, but it was not a high price to pay for conserving more than half of the fuel it would take a jet boat to do the same thing.
Since then, he has become even more dedicated to building canoes and now runs a basecamp right outside of Delta Junction. When he is not building canoes, he is "travelling wherever and whenever the wind takes him," says the intro line about him on Nat Geo.
Life Below Zero Michael Manzo is currently the co-owner and creator of Yukon Freightworks Canoe Company and a representative of Copperhead Alaska.
The freighter canoes and light-weight surface-running engines were a groundbreaking combination in the business that was his senior project at Alaska Pacific University, which he continues till today.
He has built hundreds of canoes for hundreds of satisfying customers, including a fellow Mainer in 2016 who was so happy with the new boat he took to the internet to share all the joy.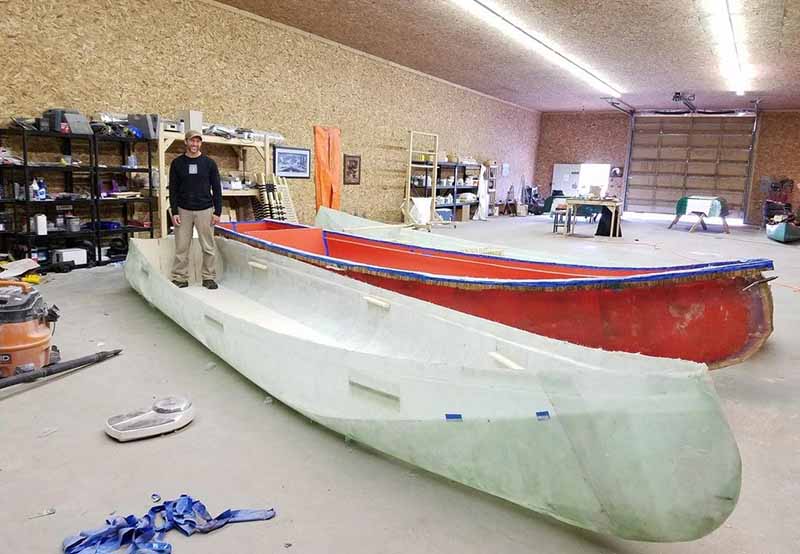 "Last summer I had the great pleasure of spending some time with Michael Manzo, owner of Yukon River Freightworks. It was great to meet a fellow Mainer in Alaska, and Michael's work is impressive. Long story short, he's putting the finishing touches on a freighter I ordered from him." The man wrote on an online forum further revealing that the boat was for his father who was currently fighting a serious health complication.
Manzo is also a Dog Musher.
We found one of Manzo's old buddies from the army on YouTube, who recently seems to have made a trip to Alaska and another mutual friend for a small reunion. The former soldier buddies stayed at Steve's small trailer-like home and visited his canoe workplace.
They were also lucky enough to hear Manzo's perspective on Alaska and got to see that Michael Manzo was also a dog musher. He fell in love with the musher legends and stories from Alaska and is currently raising several dogs.
Michael Manzo comes to 'Life below Zero: The Next Generation' with one motto, and that is;
"there's a cure for restlessness in the human spirit and that's not getting too comfortable, that's pushing the boundaries and facing the unknown, facing your fears."