One of the main casts of the reality show, Life Below Zero is Sue Aikens. Many fans of this reality show have vast questions about her.
Sue has participated in other shows, leaving her fans with many questions like her age, her failed marriages, her net worth, and many more. Today will have those questions answered in this blog post, as it will cover everything there is to know about Sue Aikens.
Who is Sue Aikens?
Sue Aikens is a celebrated television personality. As we write, Sue is 60 years old. She is a native of Mount Prospect in Chicago, Illinois.
The 60-year-old TV personality was born on the 1st of July 1963. Susan has made a name for herself on the TV show "Life Below Zero."
Her show airs on the National Geography Channel. Its debut episode can be dated all the way back to 2013. After a seven-year run, it is still going strong.
She also featured on a few other shows. These include the likes of  Sarah Palin's Alaska and Flying Wild Alaska.
Susan has worked alongside several other hunters, including the likes of Chip Hailstone and his wife Agnes Hailstone, Andy Bassich, and Glenn Villeneuve as well.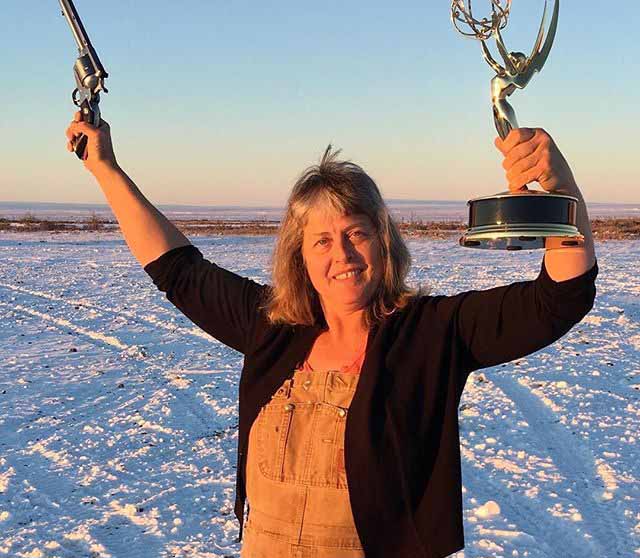 Sue Aikens Net Worth.
Susan is making a decent income from her Live Below Zero series. It is because her employer, BBC Worldwide, provides sufficient remuneration for its top staff.
Reports suggest that Life Below Zero Sue Aikens earns $200,000 per year. Susan also gets a significant sum of money from her other business ventures in the remote areas of Alaska. It includes a campsite which costs $350 per day to visit.
The site is located along the Kavik River and has played a big part in shaping her net worth. Also, Sue hosts hunters and travellers during different seasons. The 60-year-old hunter Sue Aiken's net worth is $500,000.
Sue Aikens Husbands, 3 Failed Marriage.
Many do think they know about this television star, but Aikens reveals very little information about her personal life. We had to dig to find out about her husband and family life, thanks to our comprehensive research.
Sue Aikens has walked down the aisle three times, but of all the relationships, none of them worked. Two of her husbands kicked the bucket from illness, and one eloped with a younger girl.
Her first husband died from a tumour in the brain. Later, on 13 June 1987, she married British man Eddie James Aikens. The couple had lived together in Portland, Oregon, where Eddie operated in a barbershop. They had two offspring from the relationship, a boy and a girl.
I slipped the collar last week to see my Son wed his girl. Congrats to them both, yay!! You cant take the Idgie out of this tomato 🙂 pic.twitter.com/F67UsHq2BU

— Sue Aikens (@SueAikens) October 2, 2016
The couple was divorced in 2004 after 17 years of marriage. Sue returned to Alaska alone. Her ex-husband, Eddie, passed away a short while later. She attended the funeral and had some kind words for her ex-husband, who had left. Her third marriage is still a mystery; however, the relationship did not last long.
Sue Aikens Children, Grand Children.
Susan has two adult children, who are both married and live far away. Often, they pay her a visit in Alaska. Her son is the youngest of the two. He tied the knot back in September 2016, with Sue in attendance.
Her granddaughter and grandson swing by as well. Sue Aikens has a satellite phone and wifi network to stay connected to her loved ones. She enjoys sharing gifts with her children and grandchildren. On one occasion, her grandchildren brought her a puppy.
Life Below Zero Sue Aikens bear attack.
Life as a survivor in Alaska is not guaranteed. It is one of the most dangerous and harsh environments known to man. Sue learned this firsthand on a mountain when a bear attacked her thirteen years ago. She suffered a serious injury and went ten days on her own.
Sue had to patch herself up after the attack, sewing her head and fastening a belt around her waist to keep it steady. She then radioed for help and waited. After ten days, a pilot rescued her.
Sue later filed a lawsuit against the producers for pressuring her to do dangerous tricks that left her genuinely hurt. The special titled "The Accident" detailed Sue's nasty experience. It left her badly hurt, but her employers did not act quickly enough.
She filed a Lawsuit.
Having significant issues with "Life Below Zero" producers, Sue filed a complaint against them, alleging that the deal with the BBC was very demanding and caused her a lot of emotional stress.
As she is pressured to film risky scenes without concern for her safety. She also said she couldn't wear any protective face mask or helmet, and the crew behind the camera didn't want to support her immediately to film her suffering with injuries when she had the snow machine crash.
Sue Aikens says she has been forced to operate in extreme climatic conditions. And that may be detrimental to her well-being. What's more, Sue inspired the other twelve lawsuits against parent organizations. There are no pieces of news about her life and her career these days.
Sue Aikens Wikipedia and other info.
Susan Aikens was born in Mount Prospect, Illinois, the United States, on 1 July 1963. If we add up the numbers, she is at the moment 60 years old. She is a member of the Caucasian community and holds American citizenship. Sue Aiken's grandfather is originally from Scotland.
She grew up in Chicago right up until she was 12, when her parents got a divorce. After the separation, her mother took her to a friend of her family in Fairbanks, Alaska, because she was unable to get used to the cold, and left her in Alaska.
Life Below Zero Sue Aikens learned to use guns and ammunition for hunting at such a tender age, while a typical child plays with dolls. Surprisingly, the modern-day girl got along with her new demanding Alaska lifestyle and weather.
Sue Aikens Instagram and Socialmedia Profiles.
Sue Aikens is active on her official Twitter page in addition to her involvement in the entertainment industry.  As one of the main casts in the widely successful reality TV show, she uses her huge fans to support her projects as well as share other content. In addition, she is still active on her private Facebook page, where she has over 50,000 followers.
https://www.instagram.com/p/B5SHnbEFWx7/
Her camp.
Besides being a highly popular television reality personality, Sue is also recognized as the owner of the Kavik River Camp.
Life Below Zero Sue Aiken's camp is situated near the Arctic National Wildlife Refuge and offers numerous activities, including exploration, hunting, fishing, and hiking, for hunters and also for visitors seeking adventure during the hunting seasons. It also offers summer accommodation.