Well, the world knows her as an award-winning singer, performer, writer, and poet. But there is more to this beautiful soul. One of the many grandchildren of Yule and Ruth Kilcher, Jewel, the daughter of Atz Kilcher.
Their grandmother is an opera singer, and grandfather using instruments greatly influenced the family that they all ended up knowing how to perform musical instruments.
She and her father became a duo at the age of 8. Their kids also passed on, and Jewel's passion grew. When she was 15, she moved out of her parent's house to a small cabin not so far from her parents' house.
She had to work hard to feed and go for miles riding on her horse to work on several jobs to get things running. Her story is more of starting from rock bottom to being a renowned Singer and Performer.
She later applied to a Fine Arts School in Michigan, where she got accepted on a partial scholarship. She went ahead to do her first-ever solo performance in the school auditorium to raise the rest of the fees that would see her graduate two years later after receiving training in classical singing and guitar.
Then she did a concert back at her home, and she was able to raise $11,000, which got her started on her long journey to stardom.
After graduating,  she kept writing and performing in local shops around. Within no time, she was noticed, and different labels wanted to sign her up, but she had to settle for a brand that accepted her and her way of doing things, a simple songwriter.
His fame grew when he got to perform at the Vatican, share the stage with Bon Dylan, perform at the White House for President Clinton, and in England. Never did she see this coming in her wildest dreams. As they say, the rest is history.
Jewel Kilcher Family.
She is the daughter of Atz Kuno Kilcher and his ex-wife Lenedra Jewel Kilcher.
Her two brothers Shane Kilcher and Atz Lee Kilcher. The Kilcher family is vast and mixed, from their children's marriages to the step-kids.
Ruth Kilcher's mother was an opera singer, and Yule also loved musical instruments. They passed this on to their eight children; they all ended up learning an instrument or two.
But Jewel was born for this; she took this lesson to another level to make a career for herself.
Jewel's Net Worth and House.
Her net worth is estimated to be $35M; this figure is calculated on the lower side as she could be earning even more, not to mention her salary, which is rumoured to be more than $ 500,000. About her house, not much is known, but she stays in Nashville with her son after a divorce.
They also sold their home in Hollywood Hills recently for $1.4M after the divorce with her now ex-husband.
She is also a four-time Grammy-nominated singer for the Best Country Vocal Performance – Female and Best New Artis. She also got to be nominated for the MTV Video Music Awards, where she won the title of Best Female Video for "Jewel, You Were Meant for Me, Version 1".
Also, Jewel was nominated for the Prism Awards for Performance in a TV Miniseries
Is Jewel Kilcher married to her husband?
As she rose to fame, Jewel met Sean Penn during her TV debut, and Sean approached her to do the soundtrack for an upcoming movie; this brewed into a relationship.
Still, it didn't last long before Jewel Kilcher met Ty Murray, a rodeo champion who later got married on 7th August 2008 on the beach in the Bahamas.
This was after ten years of dating. Their marriage got their son, Kase Townes Murray, born on 11th July 2011. These two shared a love for music, and they wrote a song together. even she mentioned him in the piece "Till we run out of the road."
They have made several notable appearances together, both on a business and showbiz level.
After 16 years together and after six years of marriage, the couple announced that they were filing for a divorce. Jewel took this to her blog and told her fans before the tabloids would.
In 2014, everything was finalized 2014. According to the couple, they had 'outgrown' each other. Tu Murray remarried again to Paige Duke in September 2017; together, they have a daughter.
Also, Jewel moved on and met Charlie Whitehurst in 2015. They had been spotted before, and during her trip to Australia, they were seen together walking in Perth.
Their relationship was on the low, but Jewel later, in 2017,  came to confirm it in an interview with People magazine and said that they prefer to keep it out of the public. But about the wedding bells to the American Football player, well, we have yet to hear about that one.
Age and Birth Date.
Jewel Kilcher, 49 years, was born on 23rd May 1974 in Payson, Utah, US.
About Jewel and her Musical Career.
After releasing her first album in 1995, Jewel rose to stardom and has so far released 12 albums to date. She got certified 15 times platinum after selling over 12 million recorded in the US.
She released her second one in 1998, and this was the same year she released a poetry collection.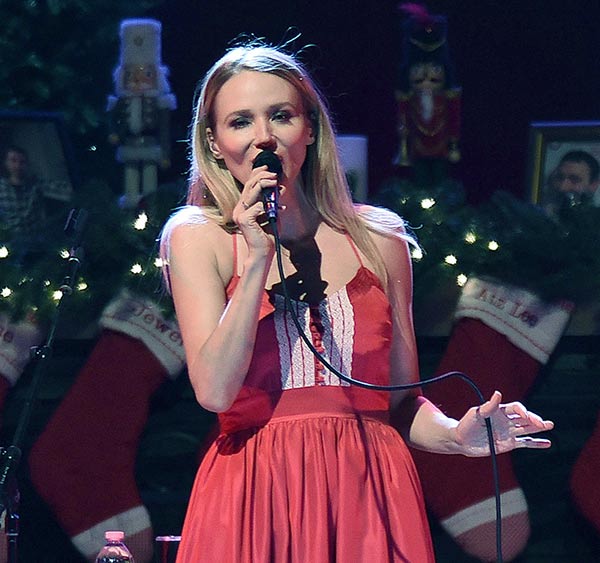 In 2009, she released her first-ever independent album full of lullaby songs catered for all ages. In 2015, she released another album, 'Picking up the Pieces,' that saw her clinching no. 28 & 29 on the Billboard and no. 1 in the US Folks Albums. Atz's daughter has also made several appearances on Tv, in movies like Lion's Den, and her family's reality show.
Social Media and Activities.
Jewel is very active on social media and is famous there as a music star. Her Facebook page has more than 700,000 followers, while her Twitter account has nearly 400,000 followers. Jewel uses her social media pages to promote her music, events, and film.
Wiki Bio
| | |
| --- | --- |
| Name: | Charlotte Kilcher |
| Age | 49 yers old |
| Birth Date:     |  May 23, 1974 |
| Birth Place:    |  Payson, Utah, United States |
| Nationality: | American |
| Height: | 1.67 m |
| Weight:         | 58 kg |
| Marital Status: | Divorced |
| Husband/Spouse (Name):     | Ty Murray (m. 2008-2014) |
| Children/Kids (Son and Daughter):   | Yes (Kase Townes Murray) |
| Net Worth in 2020:    | $35 million |