Yule Kilcher was a farmer, a homesteader and a journalist who served as an Alaskan State Senator as from 1963 to 1967 as well as the Alaskan State Constitutional Delegate., Yule was well known as the Frontier pioneer whose family are featured in the reality TV series Alaska: The Last Frontier. He was the founder of the homestead in Alaska.
Early Days.
Born in Switzerland on March 9th, 1963, to Lina and Edwin Otto Kilcher, Yule spent his early life in Laufen, where he was raised alongside his siblings Linely Kilcher, Erna Kilcher, and Edwin Otto Kilcher.
More private information regarding his family is not known to the media. Not much is known about his education, but he went to Berne University and Berlin University.
Having been raised in Europe at a time when the Nazis were expanding their power and tension was building up, he decided to search for a more peaceful environment and decided to visit Alaska in 1936; little did he know that the place would be his permanent home.
In this place, he would raise his family in the wilderness. . 4 years later, he acquired a 660-acre piece of land and moved there permanently in 1941.
Living in Alaska one requires important life and survival skills to live there, and Yule had to equip himself with all these. He practised farming and other activities that earned him a living.
He became popular in the town due to his hospitality to the residents. With time, he got involved in politics, journalism, and also in the Committee on Administration, which added a huge amount to his net worth.
Marriage.
In 1941, Yule met Ruth Weber, also a native of Switzerland. She also had an adventurous spirit and opted to visit the same location where they formed a good friendship that would lead later to marriage.
Together they had 8 children. After living and being married for over three decades, Ruth left because the marriage had problems and was past solving them. She went and got married again to another man (whose details are not mentioned anywhere) after the divorce was done.
Children.
The couple had eight children: two boys, Atz and Otto, and 6 girls, namely Catkin Kilcher Burton, Fay Graham, Mossy Kilcher, Stellavera Kilcher, Sunrise Sjoberg, and Wurtilla Hepp.
The above-named ones also had grandchildren. All these make up the Kilcher's Family Tree and many more.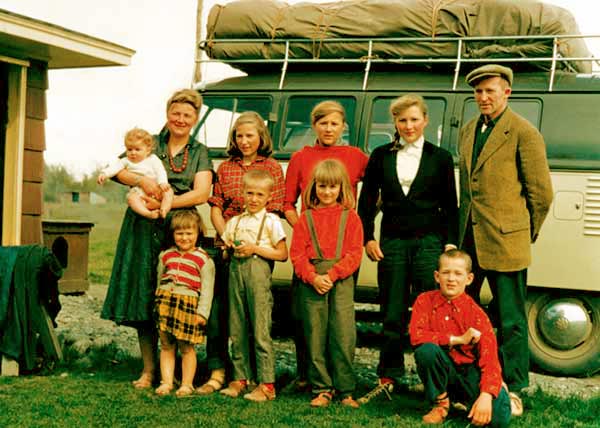 Yule was a family man. Having raised his kids to be responsible and hard-working, they sure provided enough human effort in the farms. Very reliable and showed great promise. This trait played a big part when he was up of the senate seat, which he won as earlier said.
Net Worth.
From his hard work on the farm combined with other activities that yielded a good income, Yule Kilcher's net worth is estimated to be $100,000; a prosperous farmer here was at that. Not much can be said about his net worth
Death Rumors, is it True? Confirmed.
Yule Kilcher passed away on December 8th in 1998 after a severe case of pneumonia. He at the age of 85.